Quality Management System
The Records Solutions' Quality Management System has been developed in accordance with the principles of AS/NZS ISO 9001:2016 and comprises of four components:
Quality Planning
Quality Assurance
Quality Control
Corrective Action and Feedback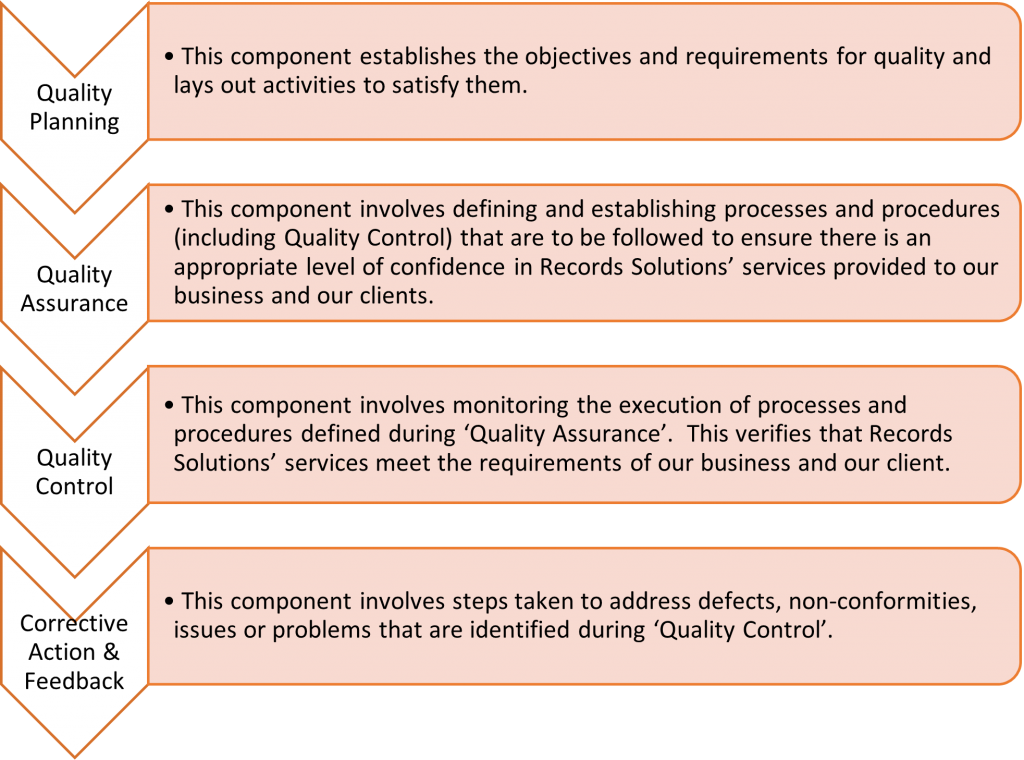 Records Solutions will provide services which consistently meet our customer's expectations in the most cost-effective manner. In order to meet this objective it is our policy to maintain a Quality Management System throughout our company's operation. This system comprising of written policies, processes and procedures will enable our activities to be carried out in a planned and systematic manner with the appropriate level of quality delivered to our business and our clients. We believe that to be part of a competitive market we must constantly aim at quality improvements.
All our employees understand this philosophy and appreciate that quality is the responsibility of everyone in the organisation. We are fully committed to the implementation of this policy and in this undertaking all employees are requested to comply with the company quality policy and objectives set out in our company quality and procedures manuals.
Quality will be achieved through diligent adherence to a quality framework developed and maintained by the Quality Management Committee. Records Solutions embraces the concept of partnerships and accordingly our quality framework is built around four (4) areas, with the overall goals in each area being:
To ensure that the methodology developed in proposing and undertaking any service is feasible employing an approach that is realistic, prudent, diplomatic and economical;
To approach each service task ensuring the highest ethical and legal standards will be observed and due regard is given to those persons who are involved with the project and are affected by it findings;
To ensure utility by producing advice and recommendations that are realistic and are accepted by and serve the information needs of the intended users;
To ensure accuracy of information revealed and conveyed from our services.
To support and ensure achievement of the identified goals, the quality framework incorporates a fifth assurance being:
A commitment to the establishment and maintenance of quality administration processes and procedures to manage both internal and external services.