The Victorian Local Government Privacy Guide was first published by Records Solutions in 2002.
The Privacy Guide acts as a best practice guide for Councils to assist with the compliance of the Privacy and Data Protection Act 2014 for Victoria and covers information privacy principals based on the core functions of Victorian Local Government Councils. To ensure the guide is fit for purpose and up to date Records Solutions engage industry experts to review and update it every two (2) years.
---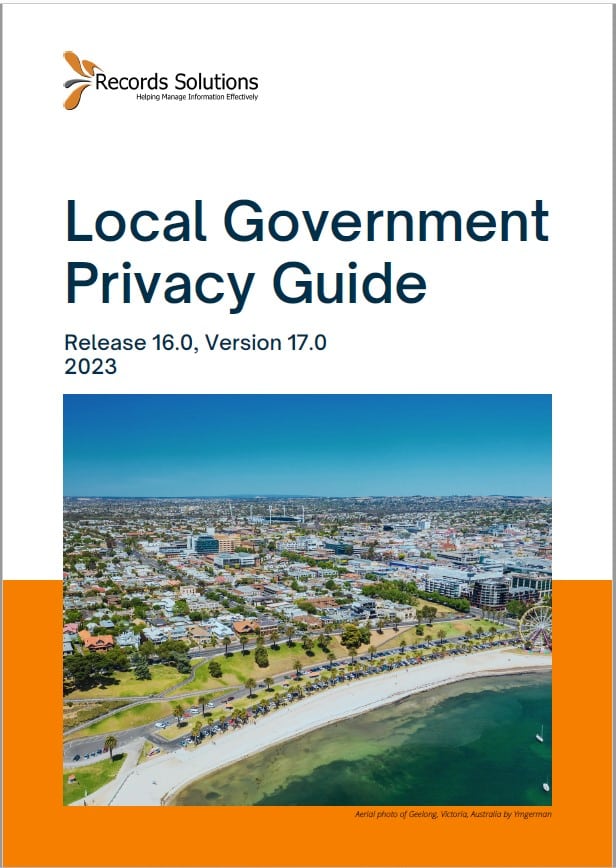 Latest Release Out Now
The 16th edition of this publication has been structured for ease of navigation, incorporating all recent changes in privacy legislation. This release includes a major change to the layout to ensure it is an educative document, that presents with a focus on privacy, highlighting the aspects and unique characteristics ordinarily recognised by subject matter experts in a simple to understand format. In essence, it will be an enabling tool to assist you in building capabilities internally in relation to privacy and within a local government context.
There has been some significant law reform in Victorian privacy law and the 16th release of the guide is comprehensive and captures all relevant changes. The privacy law changes that have been incorporated include:
Privacy and Data Protection Act 2014 (VIC) Act no. 60/2014 vers. 028
Coronavirus laws amended as of Workplace Order (No. 10)
Local Government Act 2020 (VC12 October 2022 (VIC)
Release of health records held by Victorian public sector agencies – Health Services Act or Health Records Act
Introduction to public access to information in Victoria
In addition to the new privacy law reforms, we have taken into consideration and included all details regarding the commonwealth Privacy Act amendments that have been released, due to the major data breaches/hacking events (Optus and Medibank), where they relate to local government.
---
Ordering Your Copy
To purchase your copy of the guide, complete the below form and we will send you an order form.
If you would like to find out more information on what the guide entails, please contact us today.